Understanding Domestic Sex Trafficking for Youth Work
23 March @ 1:00 pm

-

4:00 pm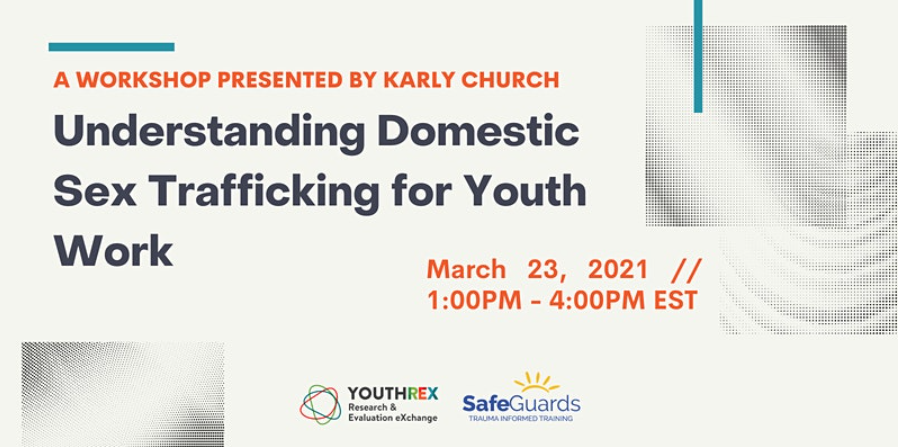 About this Event
Experts agree that not only has human trafficking for the purposes of sexual exploitation become a major issue within Canada, but there have been few attempts to address this issue. Labeled one of the "fastest growing crimes in the province," (Toronto Star, 2015), domestic sex trafficking has taken hold in Ontario recently and has become a hub for major trafficking routes (Gabrielle et al., 2014).
This workshop will define domestic sex trafficking and debunk common myths and misconceptions to paint a picture of what human trafficking for youth looks like in an Ontario context. The instructor will speak to her lived experience as a survivor of domestic sex trafficking in a way to help participants understand what domestic sex trafficking looks like and the vulnerabilities that could make someone susceptible to being trafficked. This is done to further explain the stages of commercial exploitation focusing on why young people stay with their traffickers and the difficulties faced when exiting.
Karly Church will discuss warning signs to equip youth workers with insight on how to identify the red flags of trafficking. Information on trauma and the brain will be provided, explaining how relational trauma is a contributing factor to the susceptibility of trafficking. She will speak to the importance of meeting young people's basic needs, and the supports and services available to assist in meeting these needs.
Information will be provided around interventions that have been most successful in supporting youth survivors from a trauma-informed "client" centered approach. These will be explained using the stages of change model with an explanation of how interventions are catered to where youth are identified in the stages. Karly will also speak to the importance of collaboration with other service providers and touch on the court process, and long-term supports.
Learning Objectives:
Define domestic sex trafficking
Examine the stages of commercial sexual exploitation
Identify risk and vulnerability factors as well as sex trafficking warning signs/indicators for young people
Understanding best practices for intervention and engagement with survivors
This workshop is presented by YouthREX and SafeGuards and will be facilitated by Karly Church.
Karly Church is an anti-trafficking advocate, crisis counsellor and well-known speaker. She is known for her work on the issue of commercial sexual exploitation and domestic trafficking and has been a leader in helping shift the perception of trafficked girls from criminals to victims and now to survivors and leaders. Karly is a graduate of two college programs including the Social Service Worker Program as well as the Addictions Counsellor Program. She harnesses her lived experience, extensive knowledge of trauma-informed care and harm reduction, along with her passion to engage and work with survivors. Karly is the recipient of the Jennifer O'Connell Women of Distinction Award for her dedication to supporting marginalized women and girls.
—-
Relevant Resources:
—-
A few notes to help us ensure an engaging event:
Join the event a few minutes early to troubleshoot any technical issues.
Remember that all attendees should arrive on mute. We encourage you to turn on your cameras to foster a more engaging environment.
Share your name and organization with other attendees in the Chat box when you arrive. Connect and network!
Bring your questions! This will be an interactive conversation and there will be time to respond to questions that are raised by attendees in the Chat box.
Got questions? Please contact Cyril Cromwell at Learn@YouthREX.com.
We look forward to connecting with you!
——-
Presented By:
Youth Research and Evaluation eXchange (YouthREX) is a province-wide initiative based at the School of Social Work at York University. Our Mission is to make research evidence and evaluation practices accessible and relevant to Ontario's grassroots youth sector through capacity building, knowledge exchange, and evaluation leadership. Our Vision is an Ontario where shared knowledge is transformed into a positive impact for all youth.
SafeGuards builds the capacity of people and communities through trauma-informed training and practice. Our vision is to make a difference in the lives of people impacted by trauma by providing relevant, responsive teaching and learning opportunities.
Related Events
Calendar powered by The Events Calendar